Welcome to the official website of
Paula O'brien | Psychic Medium UK Sensation
'The People's Angel'
Paula Obrien is one of the UK's Largest Psychic Mediums. Her phenomenal ability to to captivate audiences with her unique messages from loved ones led to Paula's fans naming her "The People's Angel". After starting her touring near her hometown, Dunfermline, Fife Paula has since taken her tours across the United Kingdom with sell out events in every country she has visited. Paula is consistently humbled by the messages she receives from her fans on her tour. Paula takes great pride in bringing through the loved ones of her fans and certainly wouldn't be touring today if it wasn't for you. Her brand new UK & Irish tour 'Destiny' hopes to give something back to her loyal fans. Paula is asked during her events about Destiny ad its role in our everyday life. During her new tour Paula will be incorporating a Q&A session to allow YOU to ask the questions you feel would bring you comfort and reassurance. 
If you wish to find out more about Paula's new Destiny tour please click the button below.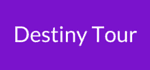 We cant wait to keep touring and meet new people in new places. We hope you enjoy exploring Paula's website. Go and have a look at our Members' Community.