Episode 8 – 'Baby & Child Loss and Child Psychic Awareness' Paula's Virtual Event Friday 25th of September 2020
September 25 @ 7:00 pm

-

10:00 pm

£30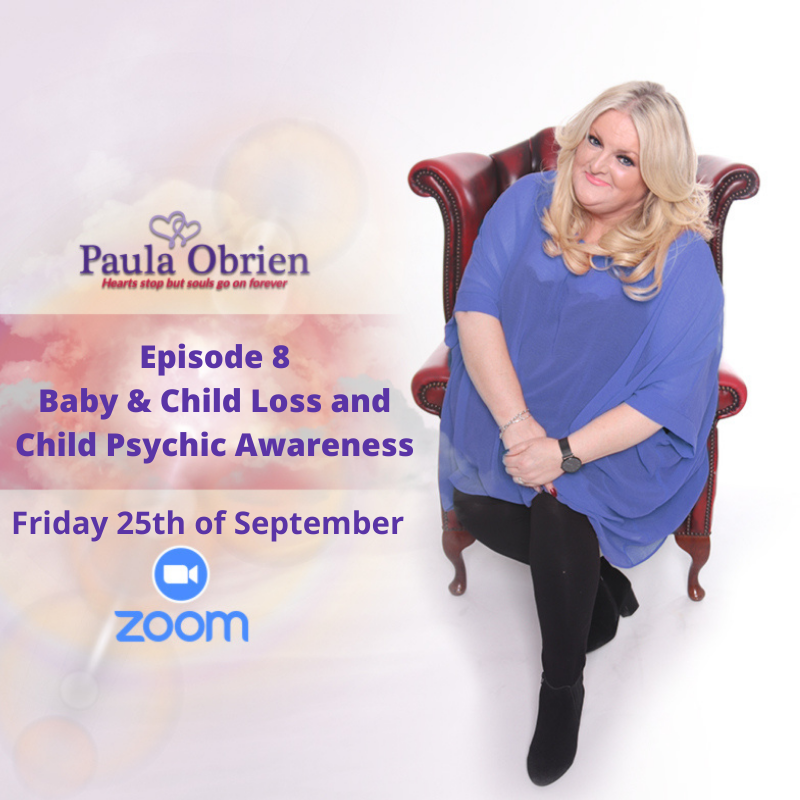 Paula O'Brien Virtual Event Friday 25th of September 2020
8.00PM-10.00PM (Online entry and attendance check into Zoom Room between 7:20PM-7:45PM)
Please note that all times are based on British Summer Time (GMT)
Join us for an exclusive 2 hour event as part of Paula's series of virtual episodes, each with a unique theme centred around Paula's wonderful messages.
This weeks theme…
' Baby & Child Loss and Child Psychic Awareness '
~~~~~~~~~~~~~~~~~~~~~~~~~~~~~~~~~~~~~~~~~~~~~~~
During my time as a medium I have always said that for me the most painful loss is that of a child. The month of September is a month to remember all the babies born sleeping, those we have carried but never met ,those we held but couldn't take home and the ones who came home but couldn't stay. 
I really wanted to do a special virtual event to connect with you if you have experienced any of these. It will be a very emotional event for all concerned but one where I hope it will bring some comfort and above all peace. I will let you all know what happens to your children and babies in heaven.  You may have wondered and I'm sure have questions and it will be wonderful to share this with you and of course hope to connect to some of you and bring a special message through from you children. 
Everyone in the event will have had this experience and as always during a virtual event other guests connect with each other and many friendships have been formed during these special times 
Please join us for something very unique and above all special and always filled with love and hope.
As always bringing her wonderful messages from heaven this is an episode not to be missed! As this period of change and uncertainty continues, Paula is adapting her events to meet the needs of her fans. We are now in the process of bringing you some of Paula's hugely popular events from the comfort of your own home, meaning you can join her with an online audience via Zoom!
Please note the following conditions:
Up to 2 people on one device, both over the age of 16 years.
Attendees must be on their device and ready at 7:45PM.
Attendees must have Zoom on their device and have everything set up to join the event (Please use the link sent to you in your invite to download the correct Zoom App for your device)
Attendees joining after 7:45PM will not be allowed to enter as to allow the show to start on time.
Attendees must have a smart device capable of hosting the Zoom App.
Zoom Link will be emailed to attendees on the day of the event, please make sure you have direct access to the email address you have used during your purchase.
Disclaimer: These Virtual Events will be recorded for promotional purposes only, should you wish to opt out please email support@paulaobrien.net and we will take steps to omit you from the footage we use.