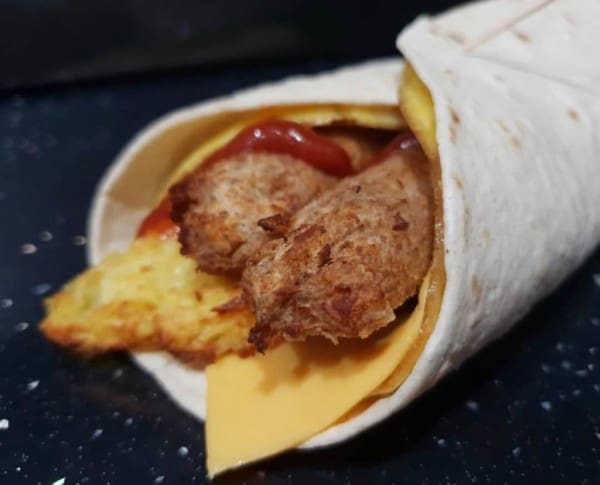 Ingredients
2 Linda McCartney Rosemary and Red Onion Sausages

Weight Watchers Wrap (or similar tortilla wrap)

2 White Potatoes

2 Eggs

1 Light Cheese Slice

1 Tbsp Ketchup or Brown Sauce
Approx cooking time : 20 minutes Serves : 1
Preparation
Start off my grating both your potatoes with a standard grater. One grated, place the potato into a clean tea towel and squeeze out ALL excess water. It is important at this stage that your potatoes are as dry as possible.

Place your grated potato along with 1 egg into a bowl and mix thoroughly, adding in salt and pepper to season.

Spoon this mixture out onto a lined baking sheet into two Hash Brown shapes ( for me it's usually just into two oblongs) and bake in a hot oven at roughly 200 degrees for 25-30 minutes until golden brown.

Whilst they're in the oven, fry your sausages until they've browned and are hot through. Fry the other egg and place to one side.

Place the cheese slice, ketchup/brown sauce, and egg in the middle of your tortilla wrap.

Add the crispy 'Hash Browns', two sausages, wrap them all up and ENJOY!