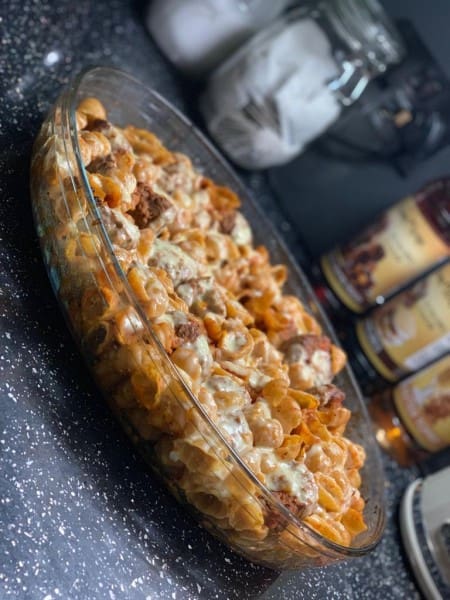 Ready in: 40 minutes  Serves: 6 People
Ingredients
500g 5% Minced Beef or Pork

500g Whole Wheat Pasta

2 Onions

2 Carrots

1 Tin of Tomatoes

Half a tube of Tomato Puree

10 Slices Mushrooms

Garlic & Italian Mixed Herbs

1 Beef Stock Pot

200g of Reduced Fat Cheddar
Preparation
Begin this recipe by adding your mince, 1 diced onion, salt & pepper, ¼ of a tube of tomato puree and a pinch of the italian herbs into a mixing bowl and mix thoroughly.

Using your hands, shape the meat into equal sized meatballs and place into an ovenproof dish and bake on 200 for 20 minutes until the meatballs are cooked through and golden on the edges.

On the hob, into a large high sided pan, add the tin of tomatoes, mushrooms, onion, 2 chopped carrots, a generous amount of italian herbs and 3 garlic cloves. Bring this to the boil and then reduce to simmer allowing all the ingredients to soften.

Take the sauce off the heat and using a hand blender or liquidizer pulse into a sauce consistency. Once blended, put back onto the heat and on a low heat simmer the sauce adding in any salt and pepper to taste and the beef stock pot. Stir through and allow it to thicken slightly.

Cook your pasta as per packet instructions and once drained, place into an ovenproof casserole dish, pour the sauce on top of the pasta and mix through. Place the meatballs evenly on top of the pasta and top the whole thing with the cheese.

Bake in the oven until the cheese is  bubbling and melted (roughly 5 minutes). Serve with a side salad and garlic bread if you fancy for a filling and delicious dinner!