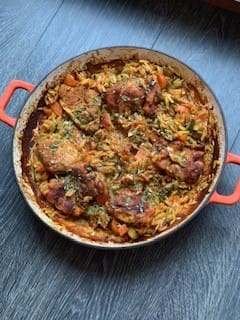 Ingredients 
Dried Orzo 250g

Skinless Chicken Thighs

Diced Carrot x 3

Diced Onion x 1

Diced Courgette x 1

Sliced mushrooms 300g or roughly 15 mushrooms

Large Vine Tomato or 6 Cherry Tomatoes

Juice of 1 orange

Chicken Stock Cube x 1

1 tbsp Smoked Paprika

1 tbsp Garlic Granules

1 tbsp Tumeric

Generous Pinch of Salt & Pepper
Ready in : 50 minutes       Serves : 3 people
Preperation
Begin by preparing your spices. Add the Tumeric, Garlic Granules, Paprika and a small amount of the salt and pepper into a small bowl and mix together. 

Prepare your chicken thighs and make sure they're free of skin and excess fatty bits ( I find the thighs can sometimes be quite fatty on the underside and therefore on occasion I will use chicken breasts) dredge the thighs in your spice mixture and leave them to onside to marinate briefly.
In regards to cooking this dish, you want to use something that can be used on the hob and then also put into the oven, I use a shallow cast iron casserole dish that comes with a lid as this will help everything to cook through and the flavours to marry together.
Heat some Frylight or spray oil in the cooking pan on the hob and brown off your chicken, making sure both sides are browned which will lock in all the flavours before continuing to cook the chicken in the oven later on. Remove the chicken from the pan and set it aside on a plate.
Into the pan on medium heat. add in the diced onion, diced carrots, sliced mushrooms and diced courgette and fry them all until they've softened.
Once they've softened add 100ml of the chicken stock into the pan, place the chicken thigs back on top and pop it all into the oven with the lid on the pan.
Cook for about 10 minutes on 180 degrees.
After 10 minutes take it out of the oven, remove the chicken pieces again and give the rest of the mixture a good stir. Add in the dried Orzo, the rest of the chicken stock and at this point, I also added the juice of 1 orange and a good sprinkling of sea salt and black pepper.
Place the chicken thighs back on top, the lid back on and put it back into the oven.
Cook this now for roughly 20 minutes until the Orzo has soaked up all the yummy juice.
Once you've taken it out the oven it should be thick and almost Risotto like in texture. You can serve it straight away, either for people to help themselves or portioned onto plates maybe served with some broccoli or green beans for extra speedy veg!