Hello hello! It's time for another episode of Jess and her rambling! How have we all been on the run up to Christmas… it doesn't even sound right coming out of my fingers that we're this close to Christmas, i'm so not prepared in the slightest (always Mrs last minute).
This next couple of weeks for us means some time away from home, this week we have had Isle of Wight, Guernsey and Jersey and it has been a brilliant week full of laughter, tears and heart wrenching stories via the messages during the events.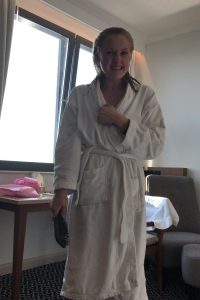 This picture here sums up my week, i've been feeling silly and smiley all week and myself and Paula have had such a laugh. It's been a week fuelled by lots of lovely coffee (my favourite thing!) and plenty of hearty breakfasts in some of the lovely hotels we have visited.
Anyone that knows me knows that I don't like relying on others to transport myself and Paula to events, I'm a bit of a control freak and really like for it to be in my hands to get Paula there on time, get set up etc. So this week was always going to be challenging relying on taxis and aeroplanes. It all worked out on point though and in hindsight I had really no need to panic, sometimes you need to go with the flow, something I seem to struggle with.
When we started off in the Isle of Wight we got to visit Gurnard Pines for our event, it's a lovely Leisure centre, event venue, soft play and cafe all rolled into one on the island. The owner and manager John is the sweetest man and always takes very good care of us providing lots of cups of tea during our time there. Ollie his sound technician is equally as lovely and it was nice to get to know him some more on this trip to find out he is actually only part time as a sound tech and the rest of the time he is a member of the St John's Ambulance!
On the Isle of Wight we always stay at a local B&B called The Caledon Guest House, they're breakfast is something to shout about, it's all local produce and home cooked by one of the delightful owners… here's what I had, Salmon, Eggs, Mushrooms and Tomato and it was cooked to perfection.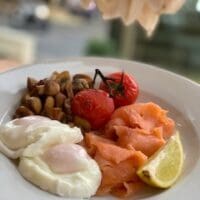 From here we headed off to Guernsey, via a ferry and a plane! In Guernsey we always stay and host our event at The Duke of Richmond Hotel and WOW, if you ever get the chance to visit here it is simply a must! They never fail to look after us and always allocate us into the Penthouse which is like a fairytale bedroom. The event was amazing, over 260 people in attendance for us in Guernsey which is spectacular for such a small island!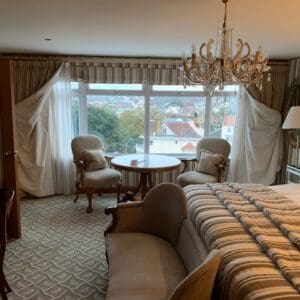 Before we knew it our time in this beautiful hotel was over and we were whisked off to Jersey via another 2 taxi's and an aeroplane. Arriving in Jersey we noticed how cold it was, last time we visited it was almost summer and you could definitely feel the cold icy wind this time round. The event in Jersey took place without a hitch and was I would say the stand out event of the week, the atmosphere and messages were quite literally out of this world and I felt blessed to be a part of it.
Thursday of this week meant home time for us, and after a small debacle with our flights being delayed and then changed we eventually made it home in the late afternoon.
Friday was spent resting, doing our weekly food shop and seeing Keithy Thompson my little furry son. I miss him so much when i'm away from home that I tend to do doggy orientated things when i'm home on a weekend to make it up to him. I mean, how could you not miss this face???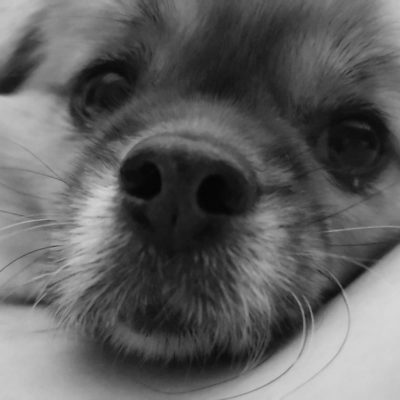 The weekend was spent relaxing, it was spent spending time with Lyndsey and Keith and trying some new things, my favourite of which I'll post here.
It was a Couscous Breakfast Pot, sounds gross I know, but it was a fabulous idea to have for a filling breakfast/brunch and it kept me well fueled for our woodlands walks that afternoon.
All I did was soak some couscous in boiling water and then layer it up with some sweetened 0% fat yoghurt, defrosted berries and some almond extract. It was absolutely delicious!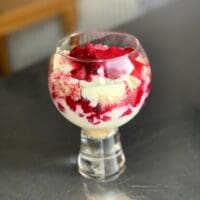 Before we knew it a new week was upon us, and it was another week away. This time down to Brighton, Crawley, Chelmsford and Colchester. To save my little eyes from being shattered myself and Lyndsey drove the car down south on Monday so that when Paula flew down to join me on the Tuesday we didn't have 10 hours in the car down to Brighton and instead just 2!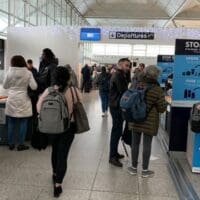 Waving my Lyndsey goodbye at the airport on Tuesday morning was horrible, even though I know we're only apart for 4 nights, there's something about saying goodbye at an airport that made it that much more heart wrenching. There she is trotting through security and off to mooch around the shops at Stansted Airport. With that said another week has begun for me and i'm sure it will be full of the usual nonsense and fun, bring it on!