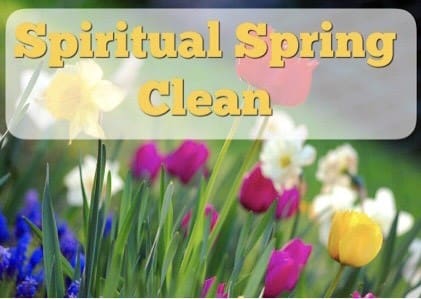 Winter has gone and Spring is well and truly on its way .  March has come in like a lamb this year and most certainly makes us feel fresh and in the mood for cleaning out the last vestiges of winter.  It is a time for new beginnings and now is the perfect time to see to yourself and perhaps have a little spring clean of your energies and the energies around you .   If you attract psychic vampires and people who drain your spirit then this is the most fabulous time to realign your energies and get you back in balance again for the year ahead.      Make the most of the full moon on the 20th March and get all those crystals out in the moonlight to recharge. You can even sit yourself out in to allow it to refuel you !
My friend has an amazing shop in Aberdour in Fife and has the most amazing crystals and oils to help you get started with your cleansing :
The Green Witch : https://www.greenwitch.co.uk/
Here are some of her tips for the crystals and oils for changing the way you feel !
A pocket of calm and hope…
When things are not in balance or I feel out of sorts, I use crystals to bring the balance back. We have been selling lots of crystals to help people gain control, energy, balance & hope, so here's my 9 magickal minerals:
Amazonite: dispels negativity to bring harmony, hope, growth and stability into your life

Agate: stone of good fortune and courage, it helps you weather 'the ups and downs and storms of life'

Jasper: stone of stability and protection in times of transition; red adds luck & hope, yellow balance & success

Aventurine: calms anxiety to allow a sense of independence and a more positive outlook to attract luck & success

Garnet: with a calming energy, it strengthens personal power whilst dispelling negativity

Blue Tiger eye: helps get you out of the rut to soar to new heights (hence why it is called Hawks eye)

Golden Tiger eye: stone of luck & success, calm & strength to help overcome fear and worry over life's dilemmas

Black Obsidian: attracts luck and keeps life in balance when undergoing transformation and change

Malachite: stone of support and hope when overcoming obstacles and negotiating life's challenges

Which one do you need? We will offer a lucky dip in store for our customers so you can find out which one you need at this time and take it home with you to help you magickally move your life forward in the right direction!
An aromatic air of calm and hope…
As mentioned earlier, I like to use different oils at different times of year to improve and balance the ambience in my home. Your nose is always a good tester, and if something smells amazing, and something else not so much, then your senses have chosen which you need. Fragrance oils may make the house smell nice but they do not change the vibration of your home like essential oils can. Every morning, I place a few drops essential oil on a cloth and wipe all my kitchen surfaces, not only to clean them but also to balance me and mine. The oils change, sometimes daily or weekly, others in place for weeks. At the moment, I feel a great need for citrus aromas, as I often do at this time. Usually, it's Lemongrass for its uplifting, sherbet aroma, but it just ain't working for me this year!! Instead, I want grapefruit, lemon and orange on my cloth…I usually use Orange in winter but it is still seems to be valid and I love Grapefruit in spring, but never usually Lemon…so what oils can help you at this time for an air of calm & hope?
Lemon: bright, sunny and sharp, making it uplifting and refreshing, dispersing confusion to help focus, thus lightening the burden and helping rescue the mind that is bogged down with decisions and obstacles

Grapefruit: lighter and sweeter than lemon, it smooths stagnant energy, lifting those heavy feelings and relieving frustration, tension and irritability. Great oil for those who 'comfort eat' when life is challenging (I know I do)

Orange: warm, fresh and sweet, it's great for those who work non-stop to find a more relaxed and positive way of living (hence why it is still valid). It encourages adaptability and optimism and a more easy-going approach to life". As Doris Day sang, 'Que, Sera Sera, what will be, will be', definitely an orange oil saying!

Bergamot: sweet, fruity and fresh, this uplifting oil helps release pent-up feelings that can lead to anxiety and depression, encouraging you to relax and let them go, redirecting nervous energy into optimism and spontaneity

Melissa: this herby, citric aroma of lemon balm helps calm the nerves and emotions, especially if you are quite sensitive and sometimes life simply overwhelms you. It can restore a sense of serenity to a confused wee soul.
Fill your space with fresh flowers and new scents to make you feel uplifted.   Time to throw away or pack away all of the rubbish and a great time to declutter the cupboards and be ready for the new energy.  
Have fun , start something new and love life !
Namaste